Compressed Gas Storage & Handling
---
Compressed Gas Storage & Handling
Follow basic safe storage and handling practices for compressed gases at UC Riverside.
---
---
Basic Storage Requirements:
Follow requirements for storing CG cylinders:
Select a cool, dry, and well-ventilated area.

Cool areas minimize pressure increases that can result from heat or direct sunlight.

Dryness deters rust and corrosion.

Ventilation is essential in case of leaks.

Never store compressed gas cylinders (with the exception of compressed air) in environmental rooms (i.e., refrigerated cold rooms or warm rooms). These rooms are not well ventilated and could pose a serious safety concern should a cylinder fail.

Do not store cylinders next to doors or in corridors where they could possibly obstruct emergency exit from the building.

Separate oxidizers or other non-compatibles

(e.g., oxygen) from flammables by at least 20 feet, or by a non-combustible wall.

Properly label the cylinders and the storage area.

Arrange storage facilities to permit inventory rotation, using cylinders in order as received from the supplier.

Store full and empty cylinders separately to avoid confusion. Serious suck-back can occur when an empty cylinder is attached to a pressurized system.

Designate an area to store empty cylinders for return to the supplier. An area on or adjacent to your building's loading dock is suitable.
Keep inventories lean:
Compressed gas cylinders are typically rented or leased, rather than purchased. Some vendors charge a reconditioning fee on each cylinder that is not returned within 2 years. This fee may be significant in relation to the actual cost of the gas.
Review your cylinder inventory monthly.

Return empty and unwanted cylinders to the vendor to eliminate potential hazards, save on cylinder rental bills, and avoid possible reconditioning fees.

Do not keep non-corrosive gases longer than 5 years from the last hydrostatic test date

(usually stamped just below the neck of the cylinder) unless otherwise regulated.

Return all cylinders that appear unsafe or show signs of corrosion, dents, dings, pitting, bulging, etc.
Restrain CG Cylinders
Compressed gas cylinders in UC Riverside facilities must be secured at all times, whether empty or full.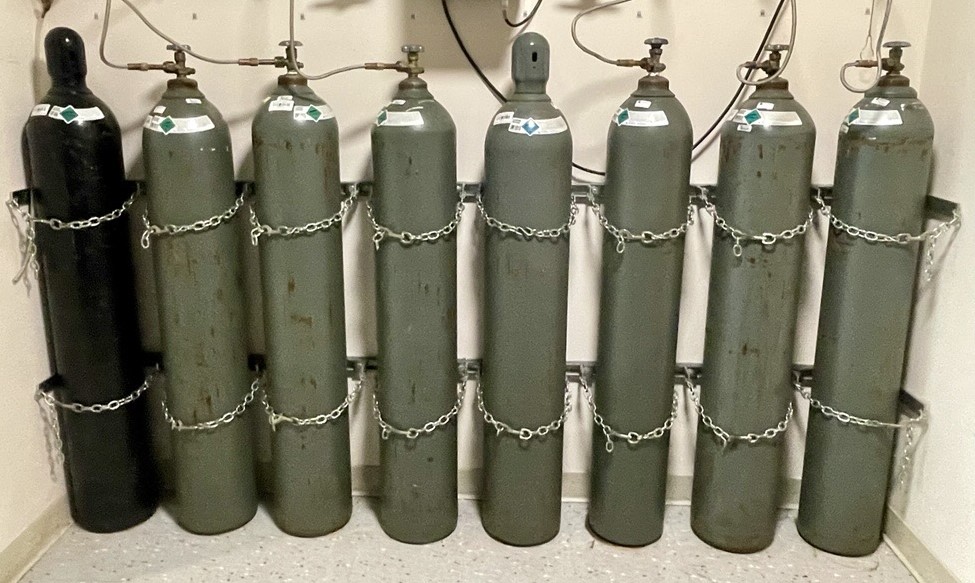 During the 1994 Northridge earthquake, gas cylinders that had been double-chained and bolted to a secure surface stayed in place. Single-chain restraints were not as successful. C-clamps did not work at all.
Store cylinders upright and secure them to a substantial, fixed surface with

upper and lower

restraints made of non-combustible material, preferably chain and Unistrut®. (See the image at right for an example of properly secured cylinders.)
How to effectively restrain cylinders:
Position the upper restraint no less than 1 foot from the shoulder of the cylinder. Position the lower restraint no less than 1 foot from the floor.

C-clamps or bench mounting brackets are not allowed!

Multiple cylinder restraints are to be avoided – Contact the Chemical Inventory Specialist if you have a special request regarding this restriction.

Cap cylinders when not in use.
In Case of Leaks
In case of cylinder leaks that cannot be stopped by tightening the valve gland or packing nut, do the following:
For hazardous

gases

:

Leave the room, closing the door behind you.

Secure the room to prevent entry.

Sound the fire alarm.

Call for emergency assistance:

UCR Police
Dial 9-1-1, or (951) 827-5222 from a cell phone. Tell the dispatcher the name of the gas.
For non-hazardous

gases

:

Close the leaking valve. Is it still leaking?

Yes – Replace the cylinder cap and notify Environment, Health & Safety (EH&S) at (951) 827-5528.

No – Contact your vendor for immediate removal.
Transporting Gas Cylinders
Follow these best practices for transporting CG cylinders:
Leave the valve protection cap on until the cylinder is secured

against

a wall or bench or placed in a cylinder stand, and is ready for use.

Use a hand truck or other suitable device to transport cylinders, even for short distances. Secure the cylinder to the hand truck with a chain or strap.

Do not

roll, drag, or slide containers.

Do not

lift cylinders by cylinder caps.

Before returning empty cylinders to the supplier:

Close the valve. Leave some positive pressure in the cylinder.

Replace original valve outlets and protective caps shipped with the cylinder.

Mark or label the cylinder "empty" and store it in a designated area for the supplier.

Important: Move unattended cylinders to a secure location as soon as possible.
Operational Requirements
Read the Safety Data Sheet and label information before starting work with a new material.
Follow these operational requirements:
Label both the cylinder and gas line with the name of the gas. Do not depend on color codes.

Work in a well-ventilated area when using compressed

gases

.

Use the correct regulator. Ensure each gas in use has its own dedicated regulator. Never use adapters.

Never permit a flame or spark to come in contact with any part of a compressed gas cylinder.

Install flashback protectors on cylinders of flammable

gases

, such as oxy-acetylene torch units.

Use a trap or suitable check valve when discharging gas into a liquid to prevent liquid from getting back into the cylinder or regulator.
---